Right i finally made it onto here from the old forum(s)
Quick intro My names Ed I live in berkshire, I have a small engineering company (just me) that does all sorts but my main work is restoring classic cars, ex science teacher, 3 small kids, porky, hairy and hopelessly optimistic....
Anyway i bought this 'ere Fletcher Cruisette off the bay of E for a mere few hundred quid, the chap i bought it off kindly delivered it from Southampton for freeeee as he wanted the trailer it was on back to collect another boat, which worked out well for me..
Luckily I had acess to some decent lifting gear
After dicking about for a few months and buying another with it's own set of problems (and an old trailer which i refurbed) i finally cleared a space for it in the workshop
The inital plan was to clean it up do a few minor repars and get it on the water for summer despite the ghastly paint, just out of curiosity i just thought I'd pull the capping of the transom to have a check on the condition....... it was not good....
so this:
became this:
Not so good, so i dug a little further..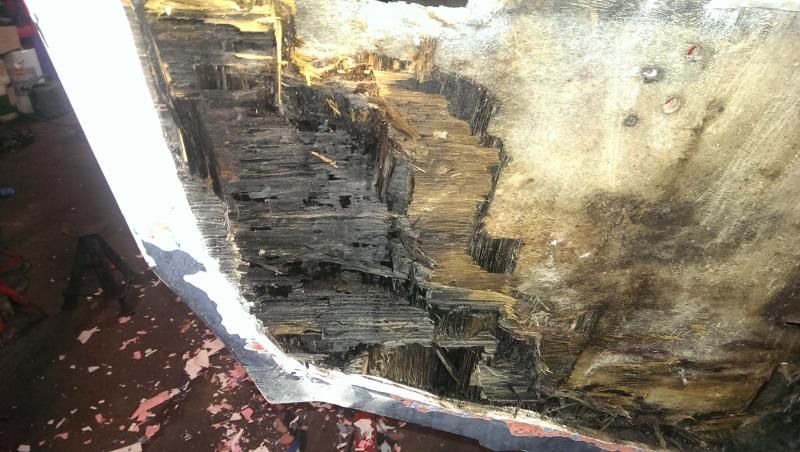 And all cleaned out...
By this stage I'd kinda commited to strip down and i HATED the red and the scabby antifoul so i didnt need much persuasion to crack out the razorblade scraper and sanding discs. Some West system epoxy and white flowcoat was bought and I got stuck in every day after work hoping to strip it all back and get it all shiny and white asap.
Now i was starting to uncover several repairs and previous damage, this old boats had a hard life it seems.
This patch 'interested' me..
So i gave a whizz with the DA and found that thre was a patch ontop of a patch and pretty badly done as well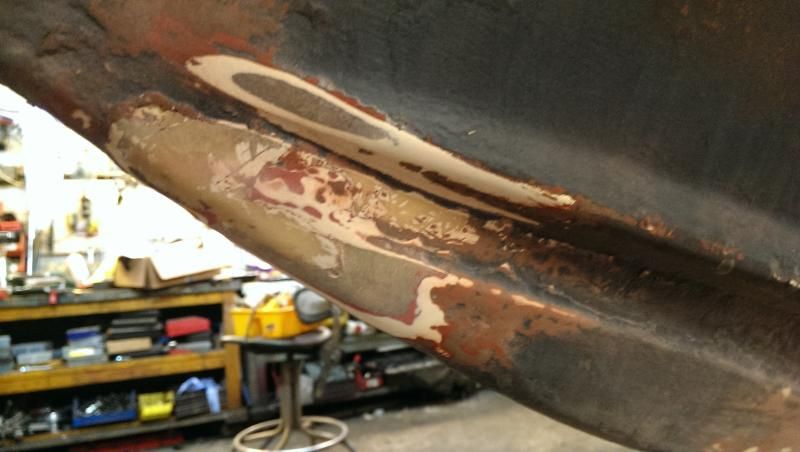 The other worrying thing i found was when i removed the rubbing stips i found that the two halves of the boat were held together with what i can only imagine were the poorest quality stainless or mild steel screws which have rotted into nothing taking quite a bit of GRP with it, being a novice boat repairer I'm not sure how best to deal with this, any ideas VERY welcome..
Ive also found a split in the floor under the seat unit..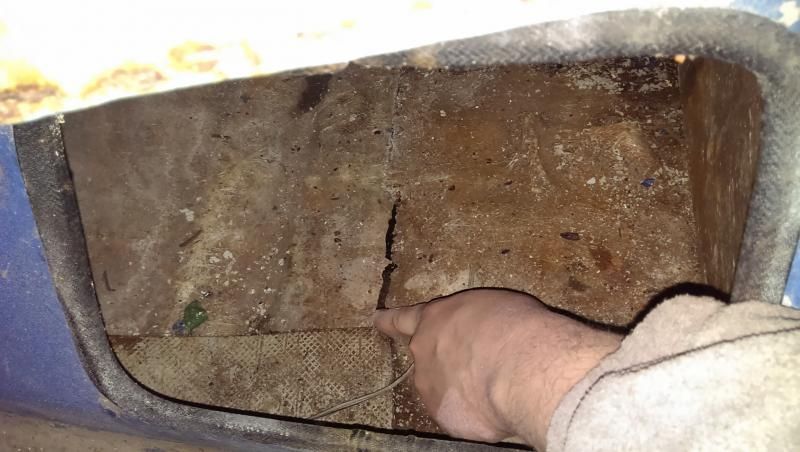 And some dodgy repairs on the internal side pods
Now I'm in a sticking point, I'm debating switching the repairs to my other hull, which needs a transom as well but has had a lot of repairs especially on the inside but it appears to be much better quality work, though it's missing a lot of the origional fittings and would need the roof from the red boat fitting as it only has a screen at present, on the plus side it's already white but it's been filled with foam underfloor which i dont like at all as it's just going to absorb water as the ends have been left open....
Any advice would be very welcome as I'm just not sure what's the best course of action, is it worth continuing with this hull?..
Next time on 'fail with Ed' the exciting world of Outboards...